Outlaws "Bend or Bust" Convoy

September 5-8, 2021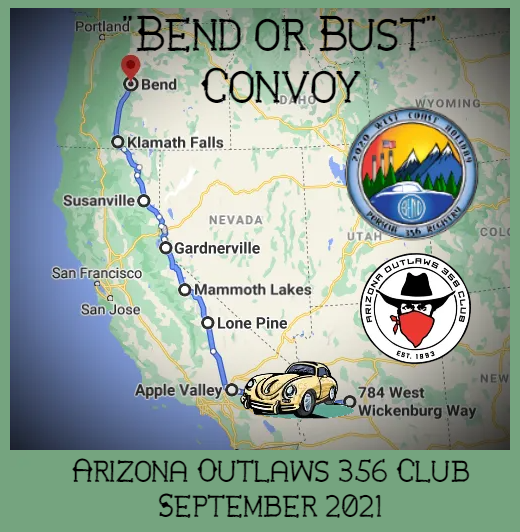 Register
You must be a current 356 Registry member to register for this event. The process is simple and uses  the ClubRegistration.net web site. If you registered for the High Desert Holiday in 2019 then you should already have an account and password. If you have any problems you can contact ClubRegistration.net or Az356Outlaws@gmail.com for help.
Itinerary
Sunday - Wednesday  /  September 5-8, 2021

If you are planning to attend the 356 Registry West Coast Holiday in Bend, Oregon, come join the Arizona Outlaws 356 Club on a group Convoy drive from Phoenix to Oregon and points in between. The pace is set to leisurely, and travelling with a group offers some comfort in case of mechanical issues.
Google Maps link to the route:  https://goo.gl/maps/5uZGzaUGRioyjFjBA
356 Registry West Coast Holiday link: westcoastholiday.org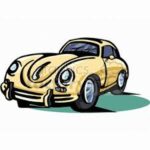 Sunday September 5th - Wickenberg, AZ to Hesperia, CA
Our Convoy starts in Wickenburg, Arizona. If you are coming from southern or northern Arizona, this provides a convenient launch point for all. Our departure will be at 10 AM from the Maverick gas station in Wickenburg on Hwy 60 west of downtown (784 W Wickenburg Way, Wickenburg, AZ 85390).
Please arrive one hour early to facilitate fueling up, registration and sign-in forms.
Lunch will be in Twentynine Palms, CA.
Departure:  10 AM
Miles:    219                         Driving Time Hours:         3+
Lunch:  Cactus Trails Cafe, 6341 Adobe Road, Twentynine Palms, CA
Departure:  2:30 PM
Hotel: La Quinta Inn, 12000 Mariposa Rd., Hesperia, California 92345, 760-662-7447
Miles:    84                           Driving Time Hours:         1.5

Monday September 6th - Hesperia, CA to Mammoth Lakes
Day #2 takes us from Hesperia to Lone Pine for lunch, then on to beautiful Mammoth Lakes.
Departure:  9:30 AM
Miles:    162                         Driving Time Hours:         3
Lunch:  The Grill, 446 S Main St., Lone Pine
Departure:  2:00 PM
Hotel: Innsbruck Lodge in Mammoth Lakes, 913 Forest Trail (760-934-3035)
Miles:    100                           Driving Time Hours:         2

Tuesday September 7th - Mammoth Lakes to Susanville
Day #3 takes us from Mammoth Lakes to Gardnerville, Nevada for lunch, then on to Susanville, CA.
Departure:  10 AM
Miles:    117                         Driving Time Hours:         2
Lunch: JT Basque Bar & Dining Room,  1426 Hwy 395, Gardnerville, NV
Departure:  2:00 PM
Hotel:  Comfort Inn in Susanville, CA (530-257-3450 )
Miles:    131                           Driving Time Hours:         2
Recommend dinner at the Lassen Ale Works (2 minute walk from the hotel)
Wednesday September 8th - Susanville to Bend, OR
Day #4 takes us from Susanville to Klamath Falls for lunch, and then completes our convoy into Bend. Crater Lake in Oregon is a beautiful area to visit. It is however a long round trip from Bend. If you want to visit Crater Lake, then you should consider doing it on our way north out of Klamath Falls.
Departure:  9:30 AM
Miles:    160                        Driving Time Hours:        3
Lunch: Los Potrillos, 1750 Washburn Way, Klamath Falls, OR
Departure:  2:30 PM
Miles:    138                          Driving Time Hours:         2.5