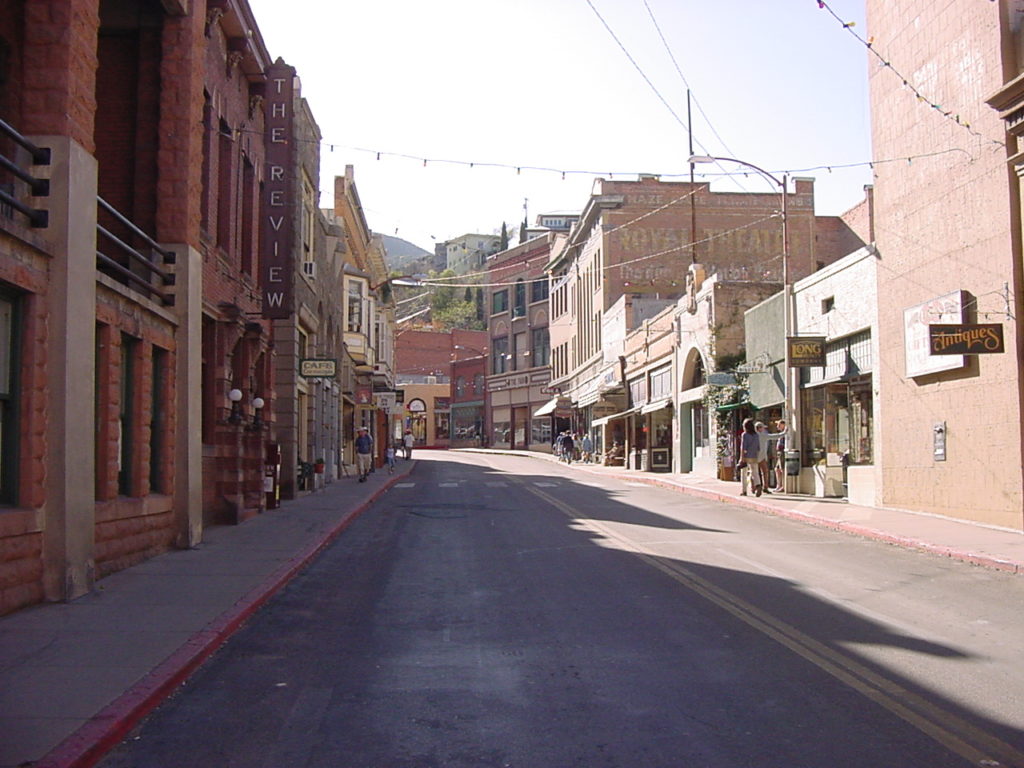 Download Registration Package
Bulldog Kliffs Rennen Overview and Registration Form
Friday-Sunday, March 16-18, 2018
Come join the Arizona 356 Outlaws on another world class scenic weekend drive to Bisbee and Southern Arizona.
Bisbee was considered the most refined city west of the Mississippi in its heyday and retains a cool funky vibe to this day with its selection of bars, restaurants, shops and local color.  Bisbee is known as a party town and St. Patrick's Day weekend will surely be epic, so make your lodging reservations ASAP.
Friday March 16
The Bulldog Kliffs Rennen starts on Friday with Outlaws meeting for lunch in Tucson. The event will kick off in the parking lot of La Encantada  shopping center outside AJ's market March 16 at 1:00 PM with a drivers' meeting.  Please be gassed, fed and ready to go.  La Encantada offers several dining options if you choose to eat there:
Blanco Tacos & Tequila

North Italian

Humble Pie Pizza

RA Sushi

AJ's Market
NOTE:  If traveling on I-10, your GPS may route you to the Ina Road off ramp.  That ramp is closed due to construction.  The best alternative is to take the next exit South, Orange Grove, turn left and follow it East, all the way to Skyline.  Turn right at Skyline and proceed just over 1/2 mile to the shopping center on your left (the North-West corner of the intersection @ Campbell).  Pay heed to the No Right Turn sign at Orange Grove and Skyline.  Call if you get lost, STP 520-419-0359.
The drive then leaves Tucson for arrival in Bisbee. We will be traveling back roads in Southern Arizona with some interesting places along the way.  Some may elect to spend more time at one or more of the places we pass.  To facilitate this, route maps will be provided to lead you to our ultimate destination, Bisbee, AZ.  When you get to Bisbee, there will be a cool-down gathering outside Suite 7 on the balcony of the Eldorado Suites Hotel, 55 OK St., overlooking Brewery Gulch.
Dinner Friday is on your own and pub crawl as desired.
Saturday March 17
On Saturday there will be a tour through back country southern Arizona, Douglas and the historic Gadsden Hotel with a stop in Tombstone.  A wine country tour will finish in time for town exploration and a wind down party.  Dinner on your own. Please consider making your reservations now.  
Sunday March 18
Drive home safely!
---

Event Hotels
Bisbee will  be at high occupancy during this holiday weekend. Please book your room as soon as possible. You can always cancel at a later date if your plans change.
Some suggestions:
Copper Queen Hotel (520) 432-2216 (Approx $99-$197 per night)

Grand Hotel (520) 432-5900 (Approx $99-$185 per night)

El Dorado Suites (520) 432-6679 (Approx $155-$165 per night)
Meals:
All meals are order from the menu and pay your own way.
Friday Lunch in Tucson:

Blanco Tacos & Tequila

North Italian

Humble Pie Pizza

RA Sushi

AJ's Market

Friday Dinner in Bisbee:

Saturday Group Lunch:

Saturday Dinner in Bisbee:

Sunday:
---
Download Registration Package
Bulldog Kliffs Rennen Overview and Registration Form