Download Registration Package
Javelina Sedona Tour Overview and Registration Form
Friday-Sunday, October 6-8, 2017
Come join the Arizona 356 Outlaws on another world class scenic weekend drive to Sedona and Northern Arizona.
Friday October 6
The Javelina Tour starts on Friday morning with a beautiful drive from our caravan meeting point in Anthem to Wickenburg on highway 74, passing by Lake Pleasant. From Wickenburg we head north amidst the mighty saguaro cacti on route 89 towards Congress and Yarnell. Known as the White Spar Highway the stretch approaching Yarnell is a nice twisty 356 warmup road for what's to come.
After leaving Wilhoit the road gets even better in a 356 and brings us into Prescott from the south side. Continuing on Route 89 into the Prescott town square we will take a break for lunch at the Prescott Brewing Company, right on the square.
Leaving Prescott behind Outlaws continue on Route 89 briefly to the turn-off for Route 89A to Jerome. The drive up Mingus Mountain on 89A is one of the best in Arizona and driving through Jerome is like a blast from the past. Stop to get your glaucoma medicine refilled or just peruse the artist offerings on Main Street.
Continuing down the hill to Clarkdale and Cottonwood, we switch to a smaller rural road through Cornville on Route 30. Cornville has a population of about 3300 people and their best known resident is Senator John McCain. Nearby Page Springs hosts a large fish hatchery operated by the Arizona Game and Fish Department. Also in the area is the Page Springs Winery.
We will turn onto Route 78 and connect to the 179 highway which is the entrance to the Village of Oak Creek and Sedona. On the north side of the Village of Oak Creek are our hotels, the Bell Rock Inn, and Holiday Inn Express.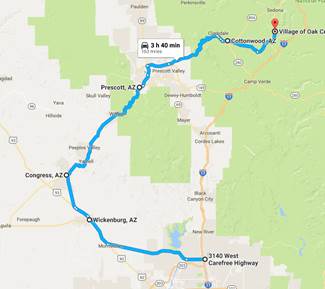 After some clean-up and a wind-down social event at the Bell Rock Inn, Outlaws are on their own for dinner. The Village of Oak Creek is host to a number of great restaurants all in the vicinity without having to venture into Sedona proper. The Cucina Rustica, J Wine Bistro, and some pub grub at the Full Moon Saloon are great choices nearby to name a few.
For those Outlaws looking for some local Sedona culture, fellow Outlaw David Gill is a member of the local Rotary Club that is hosting a Sip & Savor fund raising event to benefit the Big Park Community School in the Village of Oak Creek. Outlaws are invited on Friday night at 5:30 pm as the event kicks off with a Charity Live and Silent auction at the Collective's Vista Hall. The $50pp ticket includes unlimited delicious small plates, desserts, beer and wine. The event will feature a Live Auction (African Safari, Food and Wine Pairing Dinners, Helicopter Rides and Ski Resort Lodging), a Silent Auction with over 100 items from regional vendors, catering by J Wine Bistro, wine from Chateau Ste. Michelle, and keyboard performances by Village pianist Joe Bongiorno. Details and advance tickets can be found at www.teambigpark.com.

Saturday October 7
On Saturday the Outlaws will be presenting their collection of 356s at the Big Park Community School event in the morning. Everyone enjoys looking over a great collection of classic cars and the Outlaws will certainly provide that. Also participating in this intimate car show is the Sedona Car Club.
At 11am there will be a golf ball drop from a helicopter onto the driving range. Balls will sell for $5 each with your special number on the ball, $20 for 5 balls. When the balls are dropped, the one that lands in the hole will receive $1,000 cash! We all know how important a good education is and this event presents a chance for all to help a great cause.
After a quick BBQ lunch at the event we leave the Village of Oak Creek in a 356 parade through Sedona and the magnificent drive up Route 89A through Oak Creek Canyon. A quick stop for regrouping at the top of the switchbacks on the north end of the canyon and we are off to Flagstaff and beyond.
After passing through Flagstaff a quick 20 minute drive brings us to Walnut Canyon National Monument. The visitor's center provides an opportunity to gaze across curved canyon walls. Among the remarkable geological formations of the canyon itself, the former homes of ancient inhabitants are easily evident. You can easily imagine life within Walnut Canyon, while visiting actual pueblos and walking in the steps of those who came before. We will not be hiking to the cave dwellings on this trip, we are just stretching the legs and looking at the view. Note that this side trip to Walnut Canyon may be cancelled if we have a delay leaving Sedona and run short of time.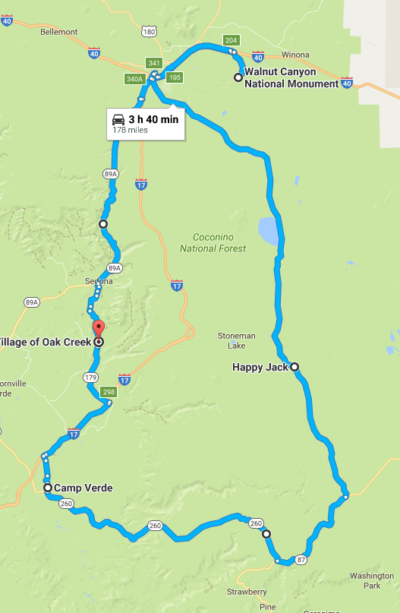 Heading back to the City of Flagstaff we will divert onto Route 3 (South Lake Mary Road) for a drive through the cool pines with a view of Upper and Lower Lake Mary. Then on past Mormon Lake for a quick stop in Happy Jack for fuel and a happy stop.
We leave Happy Jack and meet up with Route 87. This road takes us to Route 260, known as the Zane Grey Highway. It's a long roll down the hill to Camp Verde where we will end up at Moscato Ristorante Italiano for a gourmet dinner at 4:30 pm. Moscato Ristorante is a hidden culinary gem that has many great reviews and a touch of class generally not associated with Camp Verde. Moscato will be ready to handle our group and dinner is from the menu.
After a great dinner with fellow Outlaws it is a short 20 mile drive via I-17 and Route 179 back to our hotels in the village of Oak Creek. With some time to clean-up and a brief refresher at the hotel, Outlaws are invited to the beautiful home of David and Betty Gill for a dessert party beginning at 8:00 pm.
Sunday October 8
Drive home safely!
---
Event Hotels:
Sedona will be at 100% occupancy during this special time of year, and our room blocks are limited. Please book your room as soon as possible. You can always cancel at a later date if your plans change.
Bell Rock Inn  All prices add a $10 resort fee and tax. Room allocation is very limited.
Studio rooms at $128

One-bedroom rooms at $162

Two-bedroom rooms at $208
To reserve your room at the Bell Rock Inn on-line use the following special link (promo code GAZOUTLAW):
https://www.diamondresortsandhotels.com/?MKC=GAZOUTLAW
To contact the Reservation Department: 1-800-438-2929, Groups@diamondresorts.com
Address: 6246 Highway 179, Sedona, Arizona, 86351
---
Holiday Inn Express
King or Two Queen, $215 plus tax
To reserve your room at the Holiday Inn Express call the hotel directly at 928-284-0711 and ask for the Arizona Outlaws Club (AOC) rate.
Address: 6176 Highway 179, Sedona, Arizona 86351
---
Meals:
All meals are order from the menu and pay your own way.
Friday Group Lunch in Prescott, AZ:

Prescott Brewing Company, 130 West Gurley Street, Prescott

Friday Dinner in Village of Oak Creek options:

Cucina Rustica, J Wine Bistro, and some pub grub at the Full Moon Saloon to name a few

TeamBigPark Charity Live and Silent auction at the Collective's Vista Hall. The $50pp ticket includes unlimited food and wine (teambigpark.com)

Saturday Group Lunch

BBQ lunch at the car show and TeamBigPark charity event

Saturday Outlaws Group Dinner in Camp Verde

Moscato Ristorante Italiano, 396 S Main Street, Camp Verde, 928-567-7417

Sunday
---
Download Registration Package
Javelina Sedona Tour Overview and Registration Form