Tuesday January 1, 2018  AZ Outlaws 356 Club Driving Event
It is time for the Annual New Year's Day drive to Saguaro Lake for lunch at the Lakeshore Restaurant.  Tom Reyman will lead the group at 10:30 AM from Panera at the Camelback Colonade, SW corner of 20th Street and Camelback Road, Phoenix, for arrival at Saguaro Lake at about 11:30 AM.
Maps and directions will be available before departure in the Panera parking lot. Tom Reyman is the ride leader.  Please let Tom know if you are driving directly to the Lake (Cell - 602-359-4804 or tgraz356@msn.com)
Sunday January 6, 2018  AZ Outlaws 356 Club Gathering
Meetings are held the 1st Sunday of every month at Panera Bread. The gathering starts around 8-8:30am, followed by a driving tour for Brunch. Join us for a cup of coffee while you look, talk and enjoy 356's up close with other owners.
NOTE THE NEW MEETING LOCATION
Our new monthly meeting location is the Panera Bread in Phoenix - Camelback Colonade, 1949 E Camelback Rd. 85016.
South of Camelback on 20th Street on the West side of the street, near the Best Buy store.  The restaurant faces 20th Street.
For parking, use the spaces away from the store (towards 20th Street) so we don't block parking access for other customers.
Following the morning gathering, the drive to lunch will be led by Tom Reyman to Gertrude's Restaurant at the Desert Botanical Garden. Details to follow soon.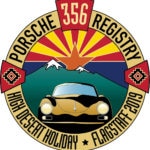 October 2-6, 2019  356 Registry West Coast Holiday
High Desert Holiday in Flagstaff, AZ
The Arizona Outlaws are going to host the 2019 West Coast Holiday in beautiful Flagstaff, Arizona.This follows an Outlaws tradition of hosting the WCH every ten years... On the Nines.
Save the dates of October 2-6, 2019.
This will be a big effort and will require the help of many dedicated volunteers to outdo the Holidays of previous years. If you would like to be a part of the Outlaws High Desert Holiday team or would like to provide a sponsorship, please contact the Outlaws Holiday Committee at HighDesertHoliday@gmail.com