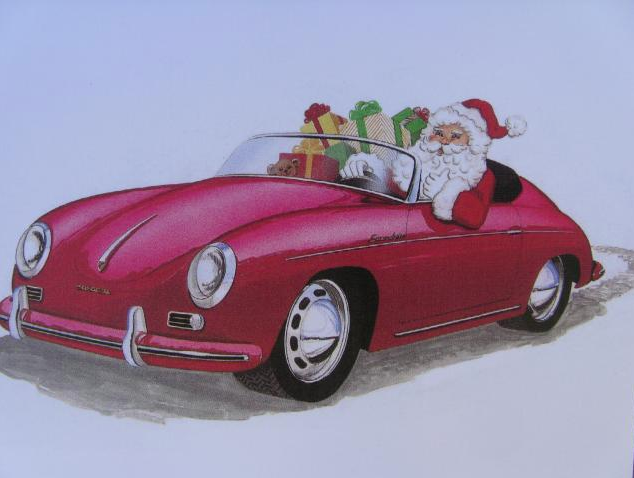 Arizona Outlaws Annual Holiday Party
Sunday December 4th, 2022  AZ Outlaws 356 Club Gathering
The time is here for the Arizona Outlaws to get together and celebrate another year of Porsche events and friendships.
The 356 Outlaw Holiday Party will return to the home of Cindy and Joe Maule in the middle of the Phoenix neighborhood South of the Biltmore District. The home has the unique parking setup where many cars (20-25) can be parked in a grassy enclosed area that allows for display of our cars. Other cars can park at the curb. The fun begins at 11:30 A.M. Please arrive no earlier than 11:00 A.M.
WHAT TO BRING
The Outlaw club will supply the main dishes (Brisket, and Pulled BBQ chicken), as well as the side dishes of Mac and cheese, and green beans The club will also supply, water, soft drinks, plates, napkins, and utensils. Note: the food quantity is limited – get there on time!
You need to bring any other beverages that you desire (beer, wine, etc.) and please feel free to bring a pot luck dessert.
GIFT EXCHANGE
There will be an Outlaw gift exchange. Please limit the item cost to $25 and the preference is for the gift to be Porsche or automobile related. 
LOCATION
The home of Cindy and Joe Maule
2945 East Turney Ave
Phoenix, AZ 85016
Phone: (602) 524-0925 (or Tom Reyman at [602] 359-4804)
Email: thephx1@aol.com
DIRECTIONS - Nearest major cross street is Camelback Road and 28th Street
South from Camelback on 28th Proceed to Turney Ave (about 0.6 miles)
Turn Left on Turney – the house is on the right at the corner of Turney and 30th
If you wish to park on the grass, turn right onto 30th Street to the entrance to the enclosed area (you will be directed).
Note - if you park on the grass you may not be able to leave early!
Jack Staggs annual 356th Day of the Year Party
Sunday December 17th, 2022   
Jack Staggs and friends host the annual 356th Day of the Year Party in San Clemente. Bring your favorite beverage, chip/dip, side dish or dessert, but most of all, bring yourself.
This is a free event, no registration required, open to anyone that's even remotely interested in 356.
When? Saturday December 17, 2022 - Rain date tbd… this is SoCal.
Where? 1321 Calle Valle Unit N, San Clemente, CA 92672
Time? 10:00 a.m. to 5 or until the last folks leave. Lunch will be served at 12, to give everyone a chance to eat (not just the early birds).
How? Drive your 356 (beater, daily driver, rusted out, Concours, 4Cam, etc) and park it with as many as can fit on the property (lots of em). Or arrive in any manner possible. The important aspect of the party is that you get to this gathering.
Contact? Any questions at all, contact:
Jack (949)492-9606 (I do not check voice mail) or email ifix356@juno.com
Trevor (949)573-5606 or trevorcgates@gmail.com
Food and beverages are provided. However... contributions of either or both will be gratefully accepted and enjoyed by the many.
What is there to do? Eat bratmeister Bob Lee's killer BBQ (former employee of the month at Phoenix Der Wienerschnitzel!), consume beverages, listen to live band (they play for free, so don't forget to tip them) and jukebox, hang with a bunch of like minded Porsche nuts, look at lots of cool 356's, marvel at and drool on Jack's "356 stuff" and participate in a "Miniature Swap Meet*."
*What's a "Miniature Swap Meet?" Items for swap that you can carry in your 356. Bring out your extra parts and pieces to help other folks finish their projects! No truckloads please. If you've got a spare engine, transaxle, etc., print up the information, make it available to potential swappers. No speculators or sharks.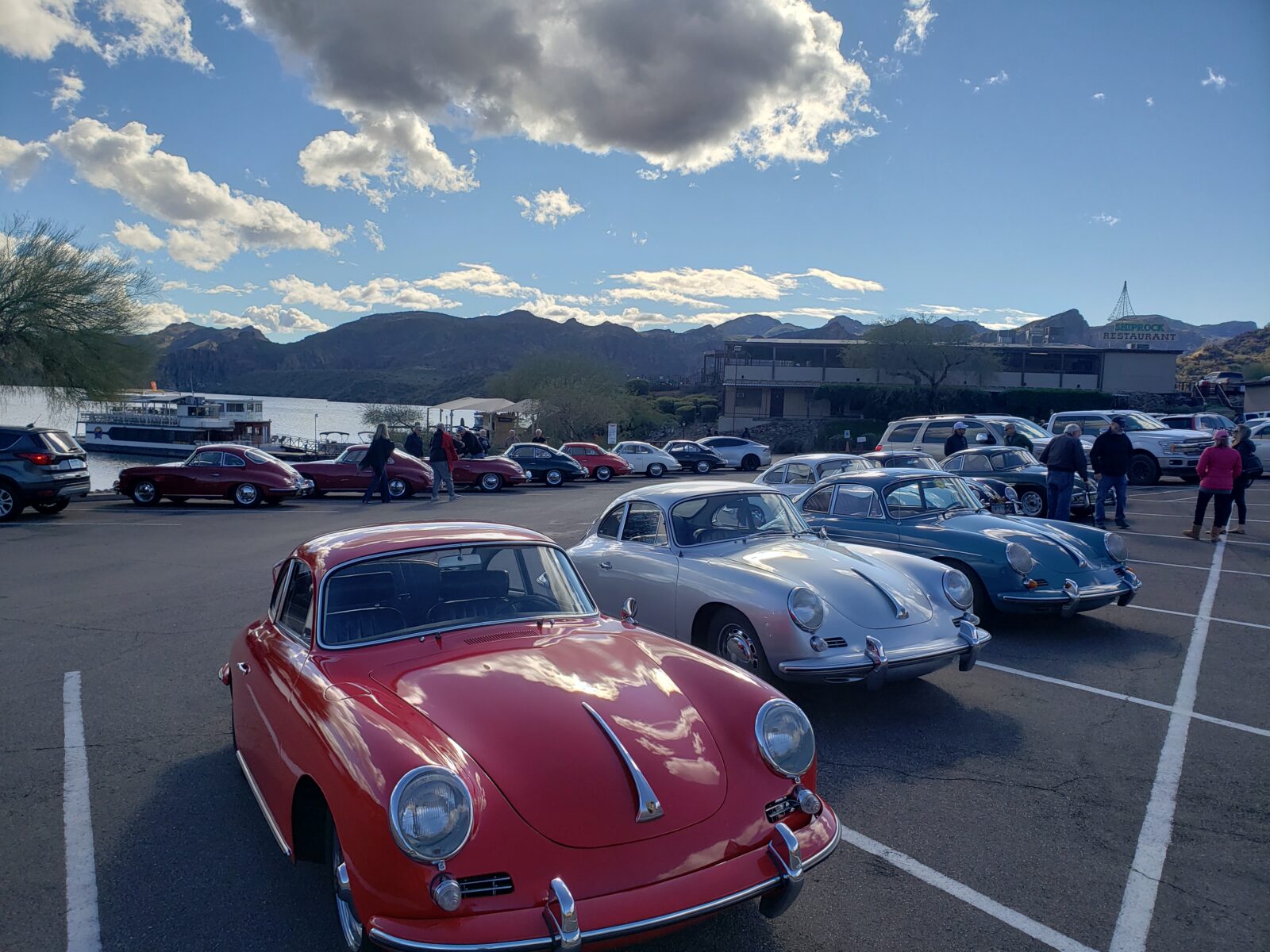 Annual New Year's Day Drive
SUNDAY January 1, 2023
The Outlaws will head out at 10 am on Sunday, January 1, from Panera Bread, just north of Raintree at Loop 101 in Scottsdale, for a drive to the Shiprock Café on the shores of Saguaro Lake.
Led by Tom Reyman, the group will go south on 101, then east on the 202 to Power Road.  From there, east on Power Road, where you will turn left heading north; Power Road bends to the right and becomes Bush Highway.  Continue until you reach the Saguaro Lake turnoff. Turn right and then right again into the restaurant parking lot.
The group is expected to arrive sometime between 11 and 11:15 am for a lakeview lunch.